MACADAMIA SHAMPOO & CONDITIONER - HYDRATING & SMOOTHENING CARE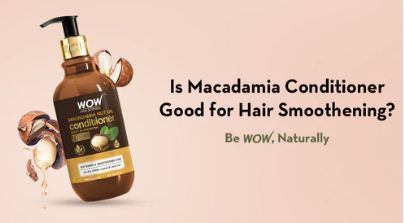 Do you have rough, frizzy, unmanageable hair? With increasing dirt and pollution, many people today are worried about adding some moisture to their hair and making it smooth. They end up trying various oils and shampoos in an attempt to make their hair soft and lustrous but end up damaging it even more.
You might have heard of macadamia nuts as a popular snack, but they have tons of health benefits for your body as well as your hair. Macadamia oil is also used in various beauty treatments.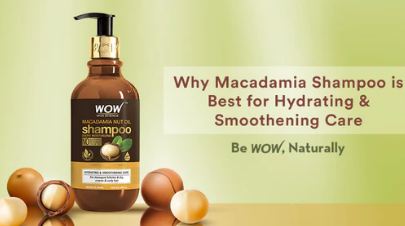 BENEFITS OF MACADAMIA AS A HEALTHY HAIR INGREDIENT
1. REPAIRS AND SOFTENS HAIR
Macadamia nut oil is rich in all the essential fatty acids and contains 92.3% naturally derived ingredients, including oleic acid, iron, phosphorus, B complex vitamins, and calcium. Macadamia shampoo for smoothening care is a good source of proteins and vitamin E, two natural ingredients that work their magic in repairing and softening your hair. It repairs damaged follicles and brittle hair, making them look toned and healthy.
2. TAMES FRIZZY, DRY, AND DULL HAIR
How many products have you come across that reduce frizziness without making your hair look oily? Probably 1 or 2. The oil extracted from the macadamia nuts is non-greasy yet very nourishing. It tames dry, dull, and frizzy hair without weighing it down and helps in transforming your lifeless hair into fresh and healthy-looking hair.
3. HYDRATES SCALP
Very few natural ingredients and products have the ability to regularize the oil production of the scalp and keep it moisturized all the time. The vitamins and minerals in the macadamia shampoo for hydrating hair keep your scalp hydrated and also ensure that it does not lose natural oil. The natural oil from the scalp adds bounce and shine to your hair.
4. REDUCES HAIR BREAKAGE
Another benefit of macadamia is that it helps strengthen the hair from the roots. When the roots are strong, there are fewer chances of hair breakage. Regular use of macadamia shampoo therefore helps to significantly reduce hair fall.
Image Courtesy WOW Skin Science