How Take Care of Your Skin in Summer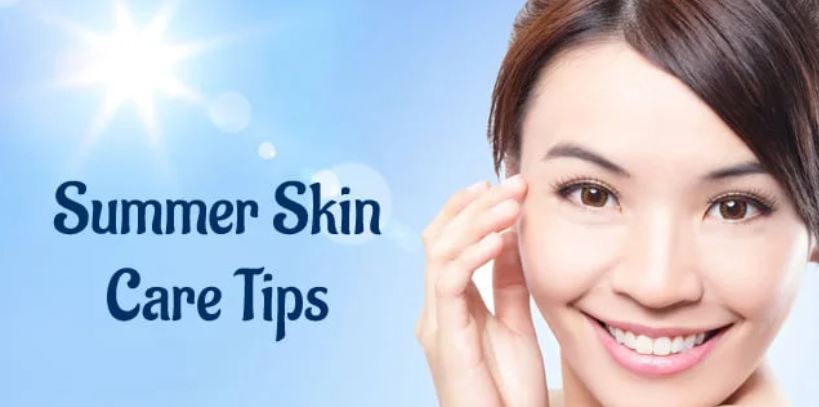 As the scorching summer rolls around, our skin begins to experience changes. Isn't it? With excessive heat and humidity all day, your skin starts screaming for more protection - from exhibiting those annoying rashes and sunburns to the stubborn tan and acne.
So it's essential that you up your skincare game right away to stay away from unwanted summer skin issues. Let's see how.
How Does Summer Affect Your Skin?
As the weather gets warmer and humidity increases in the environment, your skin's sebaceous glands start producing excess sebum (natural oil). The oil secreted gets stuck on the surface of the skin, leading to stickiness, grease and blocked pores.
Acne breakouts are the most common problem that occur in summer. People with oily skin are more prone to it as the bacteria and oils in the skin mix with the sweat causing clogged pores and acne.
When your skin is exposed to the harmful UV rays, melanin production increases in order to protect your skin from sun damage. Melanin has photo protective qualities. Excess Melanin results in darker, tanned skin. Other problems can include itchy skin, prickly heat, sunburn and rash due to sensitivity to the sun.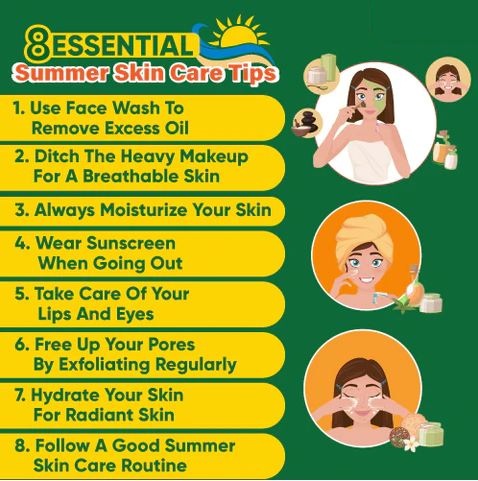 Home Remedies To Get Glowing Skin During Summer
1. Coffee and Lemon
Lemon contains vitamin C which is an effective skin brightening ingredient. Consider including Vitamin C in your summer skincare routine. Coffee, on the other hand, is a great exfoliator.
Mix one tablespoon of coffee and one tablespoon of lemon juice in a bowl. Make sure there are no lumps. Apply this mix on your face and leave it on for 15 minutes before rinsing it off.
2. Aloe Vera
Known for its antioxidant and antibacterial properties, aloe vera has a soothing effect on your skin which is great during the summers. It hydrates your skin too.
Apply aloe vera pulp directly on your skin and massage it gently for around 20 minutes. Keep it for about 10 minutes and later wash it off.
3. Turmeric mask
Turmeric has antibacterial, anti-inflammatory and anti-aging properties that helps to reduce any inflammation on your skin. Besides, it helps to brighten your skin and adds a natural glow to it.
Add a teaspoon of turmeric in a bowl and mix it well with three tablespoons of lemon juice. Apply it on your face and let it sit for 20 minutes. Later, wash it off.
4. Honey + Yogurt
Honey retains the natural moisture of your skin while yogurt brightens it.
Take a cup of yogurt in a bowl and add one tablespoon of honey to it. Mix well and apply it to your skin. Leave it on for about 10 minutes and then rinse using cold water.
5. Papaya
Other than being a mild exfoliator, papaya helps to remove excess oil, dirt from your skin and gives you glowing and soft skin.
Take a freshly mashed papaya, add some amount of sandalwood and fuller earth to it and mix it well. Apply this mask on your face and keep it for around 20 minutes. Later, wash it off with cold water.
6. Sandalwood + Almond Oil
Almond oil is an effective remedy for rejuvenating and brightening your skin. Sandalwood lightens your skin tone.
Make a paste of sandalwood and then add almond oil to it. Mix and apply the paste on your skin and leave it on for 20 minutes. Rinse off later.
7. Tomato
Tomato helps to improve your skin texture with its Vitamin content. Also, it helps to restore your skin's natural shine, thus making it glowing.
Smash a half tomato and make sure there are no lumps. Add honey to it. Apply this paste on your skin and leave it on for 15 minutes. Later, rinse it off with warm water.
Wrapping Up
Stepping into the heat from air-conditioned surroundings and vice versa, excessive exposure to the sunlight, swimming to stay cool and the humidity can adversely affect your skin. The good news is you can restore your skin's natural balance, lustre, and ensure good health by taking good care of your skin. Follow a regular skincare routine, eat healthy, Drink Fresh Juice & Plenty of Water and resort to simple yet effective natural remedies to achieve glowing skin.