How to Use a Facial Steamer at Home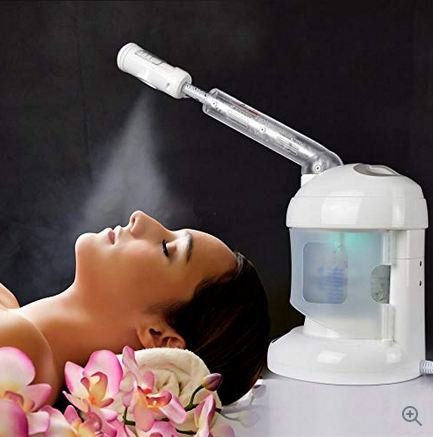 In your mind, you're at the spa, relaxing on the table as your aesthetician cleanses your skin. The facial has already started, and now it's onto your favorite part — the facial steaming.
Investing in a facial steamer is a great way to bring the spa into your home. Not only is it an at-home indulgence, but facial steaming does wonders for your skin, too. Here's what you need to know about using your facial steamer at home and how to steam your face for skin that looks healthier and beautifully dewy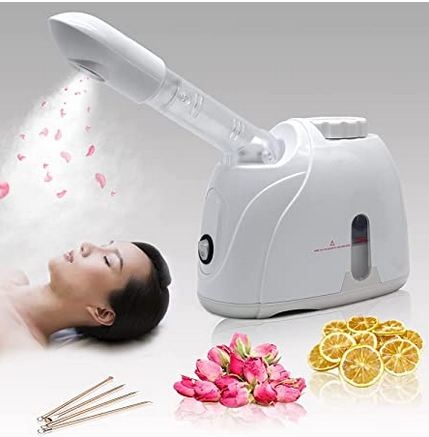 Step 1: Wash Your Face Beforehand and Remove Any Makeup
Before you learn exactly how to use a facial steamer, remember that the first step in every effective skincare routine is to thoroughly cleanse. Your face must be clean and dry before using a facial steamer. This step will ensure that you experience the full effects of a professional facial steam.
So, start by making sure you have a proper makeup removal and cleansing routine. It may be an involved, multi-step regimen, but it's worth it to keep your skin fresh and bright..
If you want, you can use a cleanser that doesn't remove makeup. Just swipe your face with micellar water or another efficient makeup remover, then wash.
As you cleanse, make sure you cover the entirety of your face. Use a headband to pull your hair back if necessary, so that you can reach your hairline. And pay extra care to your eyelid edges where mascara and eyeliner can linger. Once you've removed cosmetics and other residues, your skin will be ready for a facial steaming session.
Step 2: Fill the Tank with Distilled Water
Steaming should come after cleansing in your skincare regimen. But don't just fill up the basin with water from your sink — make sure to use distilled water in your facial steamer.
There are two major reasons why you'd use purified, distilled water. Your tap water contains minerals, which you'll steam onto your face if you use it in this way. These same minerals can clog your machine over time, too.
Step 3: Steam Your Face
With the steamer on, hold the steamer 12 inches away from your face to evenly distribute the hydrating steam across your entire face.  wide steam nozzle steamer allows for full face steam coverage so none of your skin misses out on the soothing, hydrating power of steam. After just a few minutes of steaming your face, you will reveal soothed, dewy skin that is perfectly prepped for optimal absorption of the rest of your skincare products.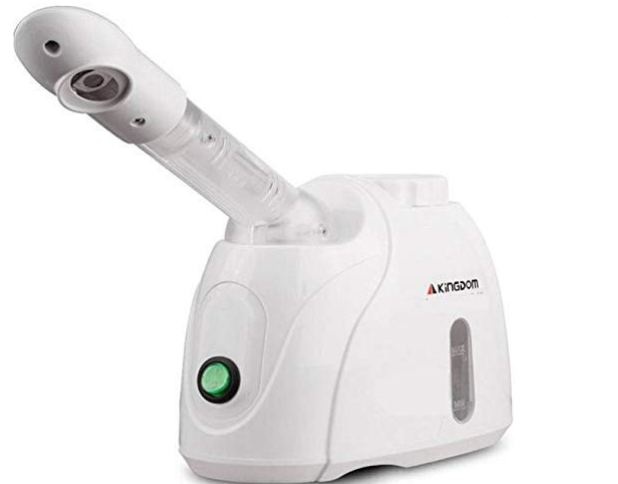 Use With Compatible Products
As previously mentioned, facial steaming should come second in your skincare routine, just after you cleanse.
But what comes after you steam your face? The warm, moisturized air encourages pores to open. This effect prepares your skin for even deeper cleansing afterward.
So, after steaming, you can choose a few different routes that'll take advantage of your opened pores. Peels can be a great next step. The Alpha and Beta Hydroxy Acids loosen the glue that holds dead skin to the surface, revealing fresh, glowy skin cells underneath. You can also use a  mask next, which will further draw impurities from the pores. Clay's the best ingredient for this task, as it removes the residue that could be enlarging your pores. 
Steaming makes your face uber-receptive to a serum, too. And always finish with a Moisturiser to quench and plump up the skin after you use your professional facial steamer.
How Long To Use a Facial Steamer
Figuring out how to steam your face will require some testing on your part. Everyone's skin is different — some can tolerate more steam than others.
So, the first time you steam, situate yourself 8 to 12 inches from the steam. Sit there for two minutes, then check your skin in the mirror. If it feels okay, then steam for up to 9 minutes, stopping if it starts to irritate your visage.
The Benefits of Using a Facial Steamer
There are many benefits to using a facial steamer. Let's start with the skin-related pros first:
Steam not only cleanses skin but hydrates at the same time. The warmth makes you sweat a bit, too, which increases your circulation. This effect gives you a healthy glow post-steam.

A professional facial steamer can pull sebum, a naturally occurring oil, from your pores. Sebum keeps skin and hair hydrated, but if it gets trapped, it causes blackheads. Your steamer will help you remove sebum from where it shouldn't be, clearing up your pores.
After you steam, your pores open up, which makes them so much more receptive to your other products. If you really want to see the effects of your serum or moisturizer, steam your skin first.
On top of all of the skin-related benefits, a facial steamer can save you money. You won't need to get facials as often if you can replicate the process at home. Your steamer can help you with that.
Bring the Spa Home With a Facial Steamer
When you're stuck at home and can't make it to your favorite local spa,  Facial Steamer can give you that facial experience without leaving the house. And, as you now know, steaming has so many benefits to better your skin, too.
So, bring home a facial steamer today to take your skincare regimen to the next level.
Courtesy : drdennisgross